Just this past Friday a tornado struck Oxford, North Carolina. The National Weather Service reports that it felled several trees and structures throughout the area incurred damage. The tornado was an EF-1 which is low on the scale, but still capable of immense damage and taking human life. Luckily, there were not fatalities due to this tornado. The area is also not completely ignorant to the devastation that a tornado can cause, as it was hit February of last year by several tornadoes in a heavy storm season.
This tornado hit early in the morning at 5:20 a.m. and had wind speeds up to "95 mph." The area surrounding Oxford is called Horner Siding Road, and is where most of the damage took place. A resident of the area, Tiffanie Boone has several things to say about the morning when the tornadoes hit, including what she did to save her children's life. "I heard the famous 'whistle and train' that came through. I ran upstairs and got my kids, got them downstairs to safety." Her mother, Phyllis Stark said something similar, "I heard like the train and then I felt a crash and I could smell the fresh air and I knew the tree had come in the house." Stark's house was directly impacted by a tree felled from the high winds. She was thankful it happened when it did, because if it was later her son would've been in the room that was hit. "Thankfully it was a Thursday night and not a Friday night because tonight, he would have been in there. I've lived here 48 years and my husband was born here. He's 75. So, he's been here since he was born and I've been here 48."
These stories go to show how fortunate these people truly were, without the timing, weakness, and location of the tornado these people would most likely not be alive to tell their stories. They were so fortunate that they didn't even get injured by the incidents, and no one in the area was hurt at all. Had they not been so lucky, they could've still been saved by a safe room like the ones that we offer. In instances like this, any one of our safe rooms could've done the job for one or two people. However, they come in many different sizes to allow for protection of many families at once. If you're interested in the base line of what we offer, the above ground safe rooms are fairly self-explanatory. They are capable of withstanding the strongest tornadoes that the Texas Institute can test against. If you're interested in purchasing one take a look out our website for more information or simply call in for a free consultation from one of our safety specialists. The safe rooms can be installed on any reliable surface, and we highly recommend a concrete foundation.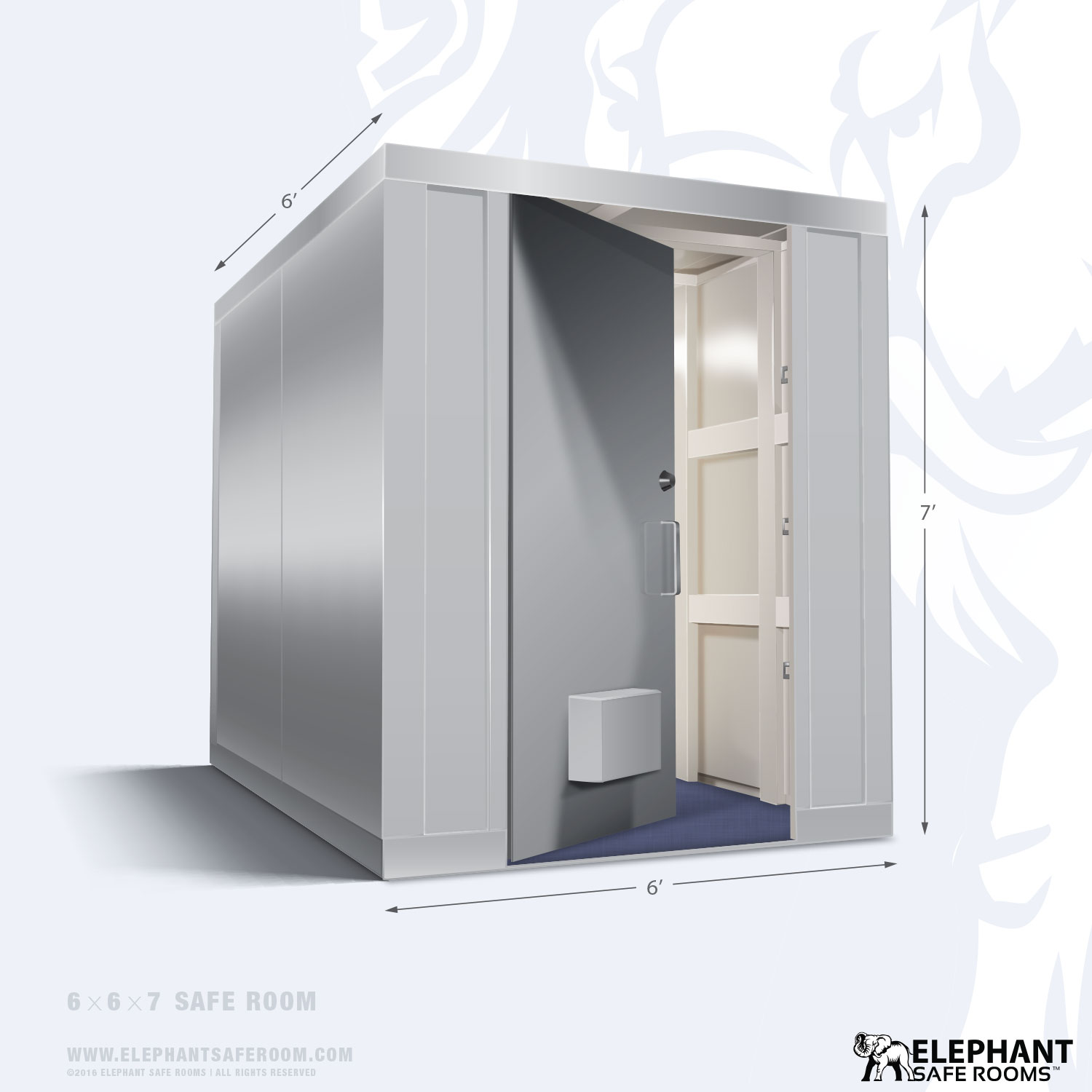 SAFE ROOM SPECIFICATIONS
Made of solid quarter inch steel plate, this storm shelter is designed to withstand massive abuses from mother nature and criminal activity alike. The fully welded safe rooms are able to withstand tornado force wind speeds when properly installed inside the home, garage, or even out in the open. You can install these units outside, when anchored to a properly reinforced concrete pad, for safety and security for your family. Each unit comes standard with a 36″ standard security door with a three-point security latch system, and a key-lockable deadbolt. Sheltered air vents allow air in and will keep debris out, and each units comes with an enamel coated interior and exterior to ensure a solid finish and corrosion protection for years to come. For maximum protection from tornadoes, be sure to view our underground storm shelters.
Elephant Safe Room® Shelters are designed and manufactured in the USA at our factory in North Carolina. We service the Southeast directly, and provide Nationwide coverage with Freight-on-Board (FOB) determined at the time of your order.