A tornado struck Houston, Texas and the surrounding area on Valentine's day this week. The coastal area was riddled with debris this week, as the EF1 tornado tore through residential and business areas. 70 miles south of Houston six people were injured in Van Vleck. The wind-speeds were up to 110 mph. Many homes were damaged, and the number has not yet been released. A number that has been released however, is that four houses have been destroyed. In the Van Vleck area, the emergency management coordinator of Matagorda County Doug Matthes said seven people were injured in the storm and taken to the hospital in an ambulance. They didn't appear to have serious injuries, but the toll of those who were injured has not been counted as far as those who were taken in private vehicles. It's quite possibly many more than seven at this point. A story came out of the situation that depicts the devastation that an unexpected tornado or severe storm can wreak upon someone's life. One of the residents of Van Vleck was interviewed, and said "I was going into the room and the center blew off, then I got popped upside the head. I looked back and said, 'I can't take another one of them,' so I went to block it and that's how I hurt my hand." His girlfriend said on the matter that "We have nothing. We might be able to salvage some clothes and stuff out of the house, but everything's gone. I just keep telling myself that at least everybody's OK."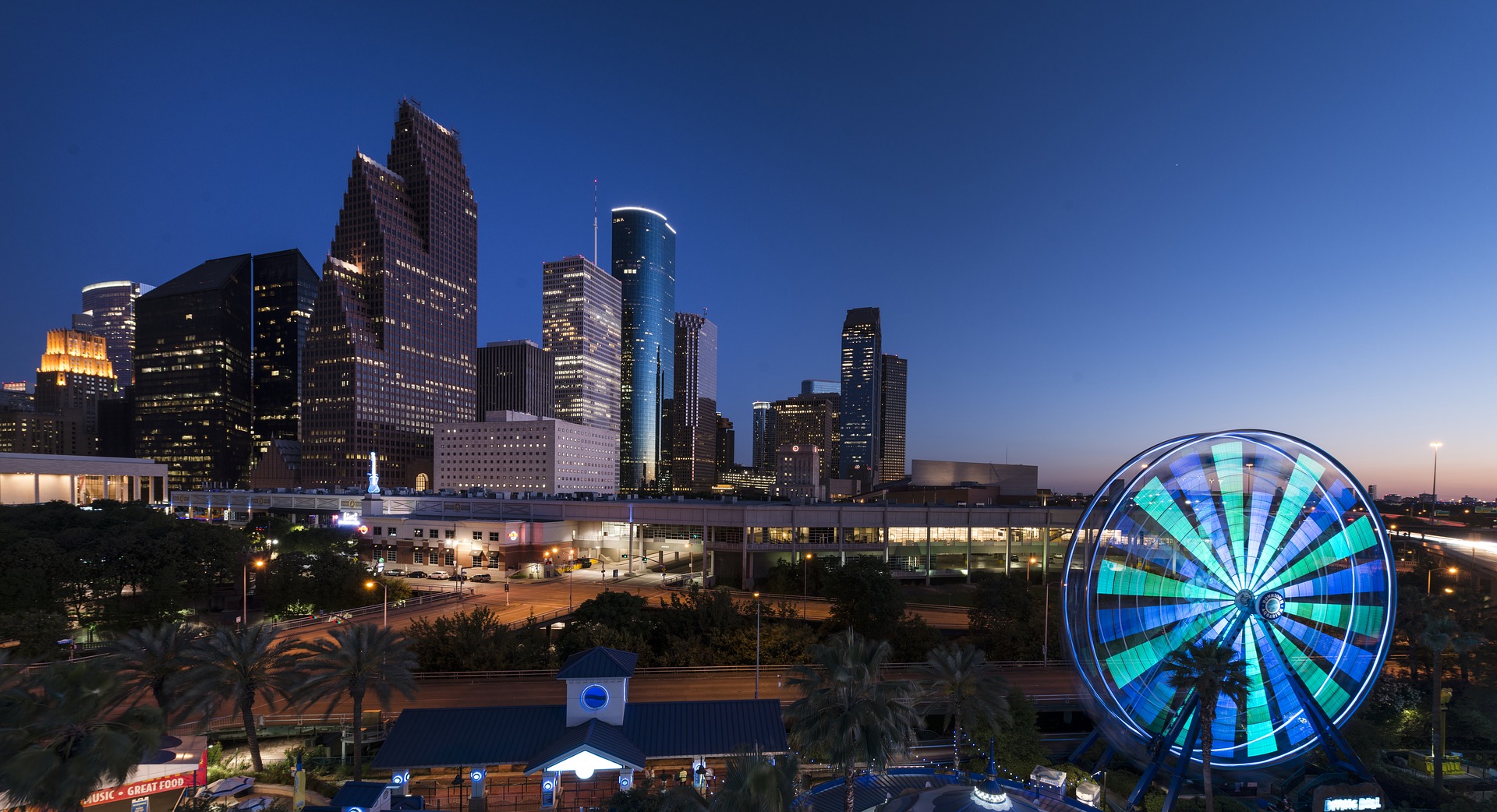 Van Vleck is a small area compared to anywhere, especially the picture of Houston above. Fortunately the tornado did not tear through a junior high school, although it was a near miss. Matthes said, "It's a rural community so these folk take care of themselves." This is true, as those of us who have lived in a small town know very well. The problem is a small town has a big community aspect in order to usually make up for a lack of resources. The need to make the day work in everyone's favor blossoms in routine transactions and support. A lot of these small towns like Van Vleck aren't necessarily poor, but they also don't have public funds to place a community safe room every few miles. The Red Cross is assisting the community as well so they're not entirely on their own.
Other tornadoes also swept through closer to Houston, that were a bit stronger. The tornadoes were classified as an EF2 and another EF1. the EF2 reached speeds of 135 miles an hour in Wharton, and caused similar damage throughout the area. Severe rain struck other cities close by, such as Austin, and San Antonio. Texas had a rough Valentine's day to say the least. Texas is actually a pretty prepped state in regards to safe rooms and things similar to them, just as a general mindset of it's residents. Still, small towns are not impenetrable and tornadoes do hit them just as often as cities. Cities have more to destroy, but small towns suffer more as a result. Losing everything in a severe storm is terrible, but knowing you should have a safe room when you don't and also getting hit by a tornado amplifies the situation terribly.
Elephant Safe Rooms are Needed in Small Towns Too
Just after our nation's Independence Day Alton Sterling was shot, which caused this recent surge of media coverage in regards to police shootings and the Black Lives Matter movement. There are many troubling statistics in regards to this situation. African Americans do not make up a majority of the population, they only make up 13%, yet 50% of murderers in the US are African Americans. This situation has many tendrils of complexity that run through every aspect of our society. Regardless as to whether or not that the situation was caused by the police, the people, or the media, it has jeopardized the safety of the American people.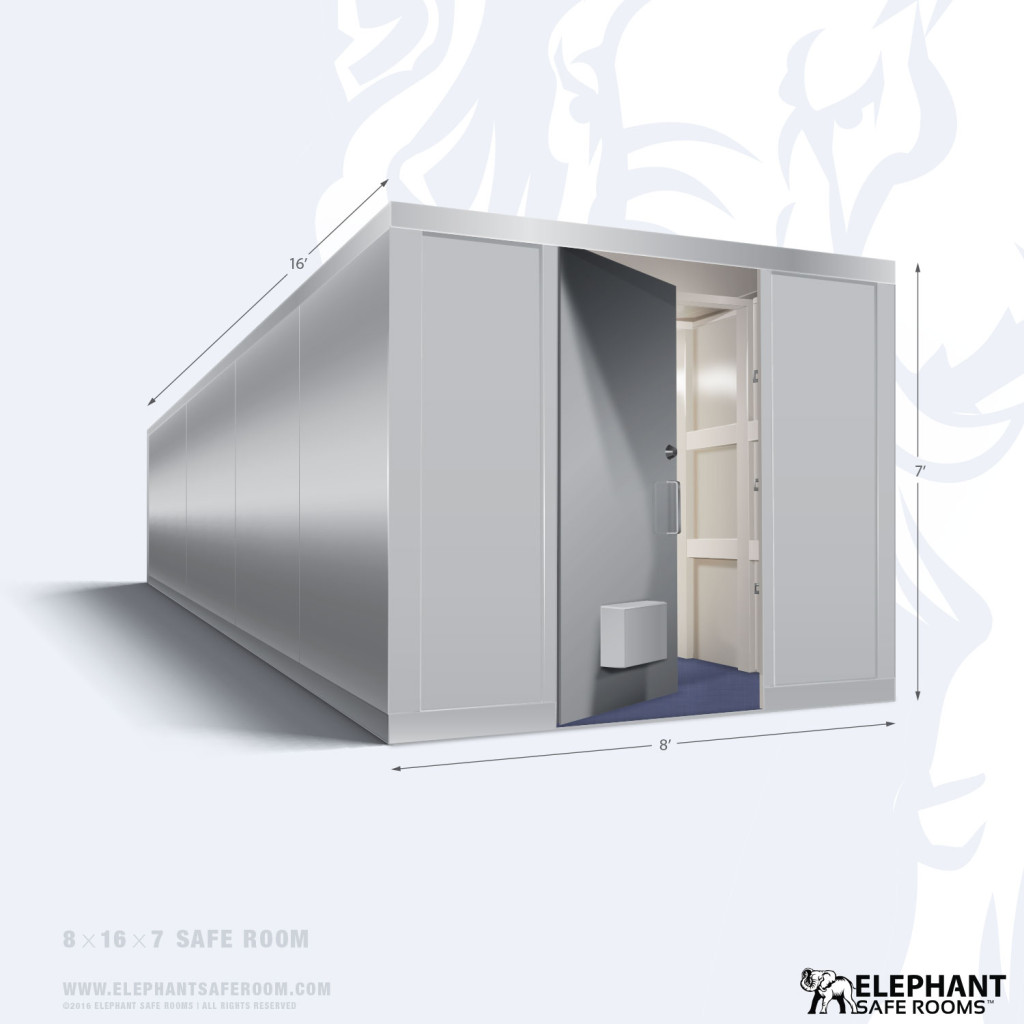 Our above ground safe rooms can be installed freestanding or attached to your house from outside. If you want to be able to access the safe room from inside your home, we can install the structure adjacent to any exterior wall. Then an access door can be installed to allow easy entry to your safe room. Safe rooms come in 4', 6', and 8' wide dimensions, but customized dimensions are also available. 12 gauge steel protects against tornado force wind speeds. Sheltered air vents filter out debris to allow air into the space.
Storm safe rooms offer maximum protection from tornadoes. They are installed underground with 6' wide dimensions. For access, you have the option of a stairway, or an overhead hatch with a ladder. A secondary entry point can also be added for additional security in case debris is blocking one of the escape hatches. These bunkers are able to accommodate anywhere between 6 and 26 people depending on your safety needs. 12 gauge steel protects against tornado force wind speeds. Sheltered air vents filter out debris to allow air into the space.
A panelized safe room kit allows you to retrofit any room in your house into a tornado shelter or storage room. These kits come in 6' and 8' wide dimensions. The kit comes with a series of 12 gauge steel panels that are steel-bolted together to provide optimal safety for you and your family. These kits can also be installed freestanding as long as they are supported by a concrete base. 12 gauge steel protects against tornado force wind speeds. Sheltered air vents filter out debris to allow air into the space.
We want to help you keep your family safe in case this trend of shootings keeps happening, which it appears that it will. We offer bulletproof 1/4″ steel plated Safe Rooms that can keep you and your family safe from stray gunfire or a home intruder running from the cops. We have safe rooms, panelized kits, and underground bunkers that are available now. Call in today for a free consultation with one of our specialists, and take a look on our website if you want to purchase today.