The tornado season is upon the United States. Three tornadoes have struck New York, Oklahoma, and Maryland respectively. All three tornadoes caused significant damage and some injuries. The series of tornadoes is not atypical in summer months. Residents in the affected states expect tornadoes every year and prepare with safe rooms, emergency plans, and insurance. Still, the devastation does not come without comment. Every year there is property damage and some fatalities. It seems a vocal portion of the residents have….had enough?
Everyone knows Americans are emotional. Herein, it's also understandable that citizens are fed up with the tornadoes and how the situation is being "handled." Specifically, The National Weather Service is under fire by some residents in Oklahoma due to a delayed warning signal during the most recent tornado that struck the state. Typically the warning goes off an hour early in places like Oklahoma but this time one didn't go off until much later when the damage has already been done. This happened two more times in New York and Maryland. Part of the reason why the alarms have been delayed is due to a precautionary measure The National Weather Service is using. It turns out that when more false alarm notifications or warnings in which the tornado does not touch down prevent future warnings from taking full effect. Residents of affected areas end up not practicing preparedness because they anticipate each new warning is a fake.
Why the Lack of Warnings?
Greg Schoor is a program leader at The National Weather Service. He responded to the claims recently in an article written in USA Today. His response was, "There's no headline here."with the argument being that the three events were unrelated. Each department in every state operates as a unit in part of the whole. However, the decision to call for a tornado warning is made independently. It's true that the National Weather Service is not "failing" as a whole or making bad decisions. The tornado warnings that failed to come for the three states listed above, and many more. In the same USA Today article it was written that, "The weather service issues many more false alarms for tornadoes than they do for actual twister, with an annual average false alarm rate of about 75%." When considering that statistic it seems counterproductive to begin rolling back on false alarms now. Schoor says, "We don't miss the big ones."
Roger Wakimoto of the American Meteorological Society also added, "The rationale is that a false alarm rate that is high is similar to crying wolf too much — the public starts ignoring the warnings. There has been a general  trend to reduce the false alarm rates associated with tornadoes, which means you tend to be cautious when issuing a warning." It may not be what the victims in the affected states wanted to hear but it will have to do. This leaves the onus to prepare on the residents of high risk areas. Truthfully, it's always on the individual to protect his or herself.  No matter your location it's important to prepare for emergency weather situations. Natural disasters are coming closer and closer together these days with shifting jet streams and changing weather patterns.
NATIONAL PREPAREDNESS
National Preparedness is next month and it starts Sept. 1. In the wake of some re-configuring taking place at The National Weather Service it's apparent safety is primarily in the hands of the individual. That's where we come in. Our safe rooms are 100% ready at all times. If you feel unsure as to whether or not a severe storm may spawn a tornado you won't need to wait for The National Weather Service to issue a warning. You can enter your safe rooms and be guaranteed safe. If money is an issue, consider our first preparedness tier: The Above Ground Safe Room.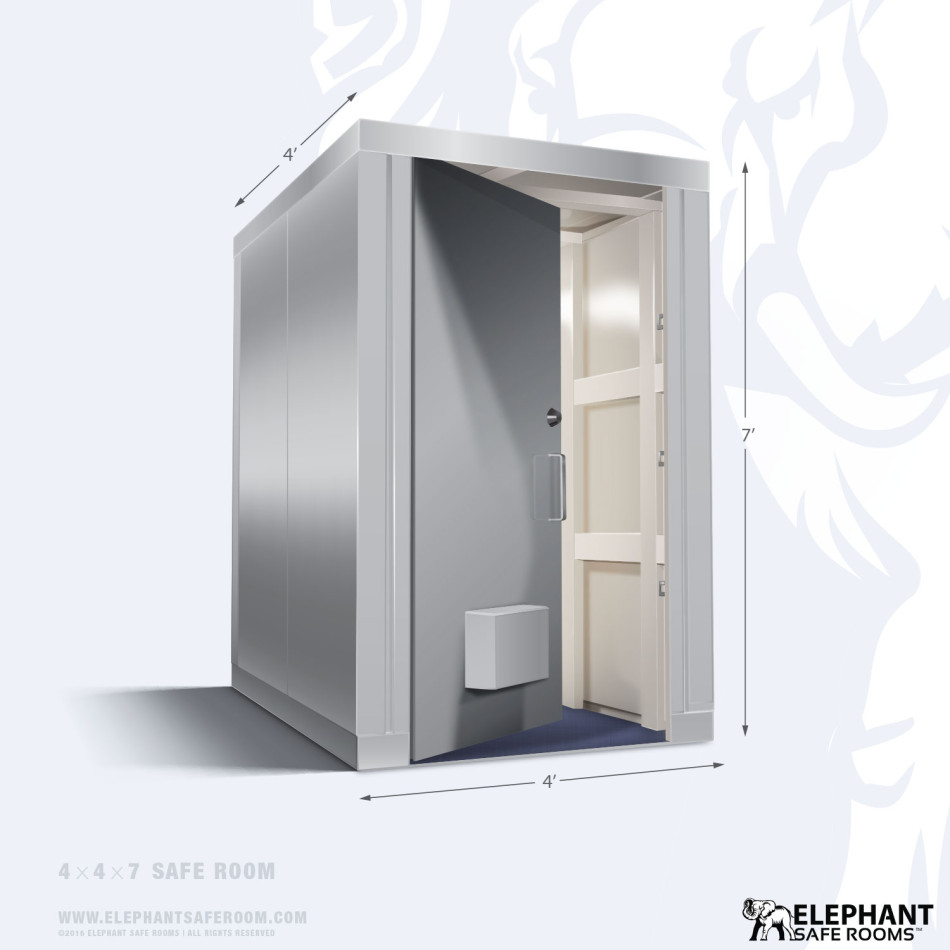 PRODUCT DESCRIPTION
Our 4×4 safe room is 4′ wide by 4′ long by 7′ high. Elephant Safe Room® Shelters a secure multi-use above ground steel residential tornado safe room.
SAFE ROOM SPECIFICATIONS
Made of solid quarter inch steel plate, this storm shelter is designed to withstand massive abuses from mother nature and criminal activity alike. The fully welded safe rooms are able to withstand tornado force wind speeds when properly installed inside the home, garage, or even out in the open. You can install these units outside, when anchored to a properly reinforced concrete pad, for safety and security for your family. Each unit comes standard with a 36″ standard security door with a three-point security latch system, and a key-lockable deadbolt. Sheltered air vents allow air in and will keep debris out, and each units comes with an enamel coated interior and exterior to ensure a solid finish and corrosion protection for years to come. For maximum protection from tornadoes, be sure to view our underground storm shelters.
Elephant Safe Room® Shelters are designed and manufactured in the USA at our factory in North Carolina. We service the Southeast directly, and provide Nationwide coverage with Freight-on-Board (FOB) determined at the time of your order.